It's been a long while since I've put together an Earth Shifting update, but today's latest volcano eruption and earth quakes galvanized to me take a closer look…. and oh boy things area really shaking now!  Besides Several geomagnetic storms and "surprise" CMEs, our planet is currently rocking, and the weather is not very lovely either!
Are you prepared?
Here is the latest Volcanic Eruptions and major Earth Quakes in the last little while:
high-level eruption took place at Semeru volcano, East Java, Indonesia at around 07:00 UTC on

December 4, 2021

. The Aviation Color Code was raised to Red. 09:20 UTC, the ash cloud was estimated rising up to 15.2 km (50 000 feet) above sea level.
Kesongo mud volcano in Central Java, Indonesia erupted around 08:00 LT on

December 3, 2021

Sangay volcano, Ecuador at 09:03 on

December 2, 2021.

The Washington VAAC is reporting volcanic ash rising up to possibly 15.2 km (50 000 feet) above sea level
Pinatubo volcano, Philippines between 04:09 and 04:13 UTC (12:09 – 12:13 PHT) on

November 30, 2021

Iliwerung volcano, East Nusa Tenggara, Indonesia at 13:52 UTC (21:52 WITA) on November 28, 2021

Island of Vulcano, ItalyThe Sicilian government has declared a state of crisis and regional emergency for the island of Vulcano
As of Nov 17th 2021, there were officially 17 active/erupting volcanoes across the planet
Since Oct 1 2021, we have had 2 earthquakes over 7 magnitude, and 29 earth quakes  magnitude 6 or higher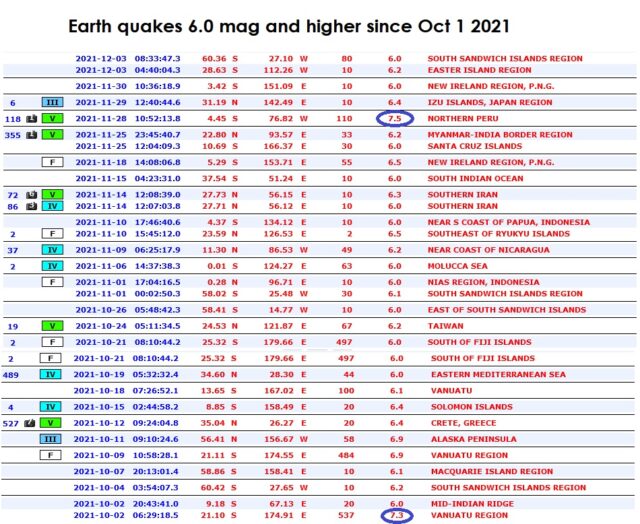 And then we have the raging floods, mudslides and wild storms that have been raging around the planet as well.  The Earth is not a happy camper at the moment my friends.  I hope everyone has been getting prepared for this craziness that's spinning out across our country- and I don't just mean impending lockdowns and martial law!.