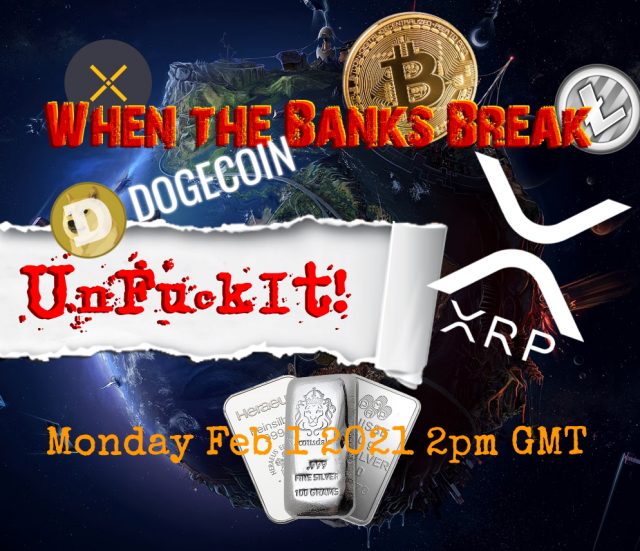 Well, this could be the week that breaks the proverbial camel's back for the banks.  WallStreetBets, Shorts, Hedge funds losing billions, and now the target is physical Silver…. JPMorgan should be shaking in their boots!  XRP/Ripple rumors of a major pump scheme that may be coming right out of the Big Banks asses….. oh yes, it's gearing up to be a very very interesting week!!
Nick's Crypto 101 Basics discussion is available to UU Members on UnFuckersUnite.com, and a new Cryptos 101 group has been created on UU, run by Nick, for discussions on the topic of cryptos etc.
There are also several books in the UU Library on Cryptos and bitcoin, and a TON of books on Alternative/Green Energy projects and "how to"
Side Note: We're having a Sale at Gaea's Garden on our 100% Pure Organic Argan Oil!!  100ml regularly £18.00, now £14.00!!!
https://www.zerohedge.com/markets/its-not-just-robinhood-reddit-rebellion-has-clogged-entire-financial-systems-plumbing?fbclid=IwAR01bS_GoJGWzOnNq-2mDC0j7Dp1GsinZZfpmeWKhct1bKB7wi6E7LQyLiY
https://www.zerohedge.com/markets/reddit-preparing-unleash-worlds-biggest-short-squeeze-silver?fbclid=IwAR0QBrFdofZxwd5qCM6GOH6H1wj1A9lX5NMfhsZYJ8tNvGKYplF3pKTe8oI
https://www.zerohedge.com/markets/sec-publishes-statement-short-squeeze-insanity-will-protext-investors-manipulative-trading?fbclid=IwAR0kB-ELB0LZOFLk7va2vLQfuoX9e3-xP9sxnq2dxmZdkSySFx2_WC9K_50