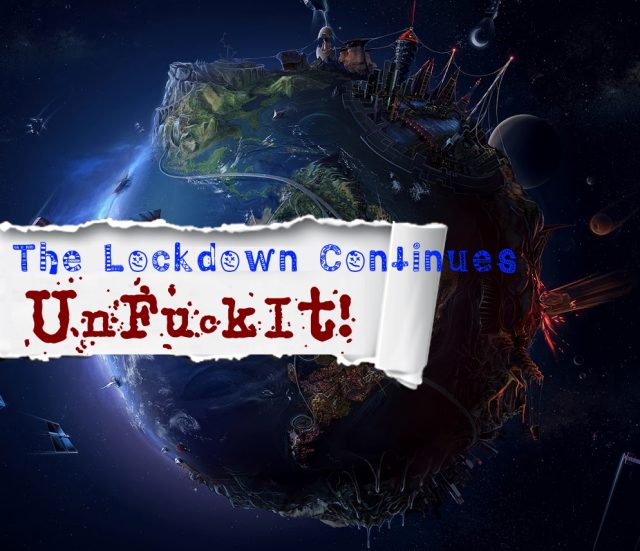 UnFuckers Unite is now finally ready to be launched!!
Our UnFuckers website has been (mostly) rebuilt and the membership registration is now open.  We're still working on the social media aspects and the groups but hope to have them up and running by the end of this weekend.  For the moment members have full access to the Reading Library and the archives of shows and discussions from previous chats.  I will make a full announcement as soon as the whole site is up and running in it's final form, to introduce you all to our new home.
The COVID lockdown, next stage of the evolution.  We went all over the place today- from recent covid updates, to changes in lockdown in the UK and Australia, BREXIT, and a whole ton of related news.  We also talked more about "prepping" and I answered quite a few questions about specifics to do with food preparations for long term storage.
The craziness continues folks, and it's about to ramp up even more!
LINKS from today's discussion:
The only remaining proof of the report I did in early 2015 about the pharmaceutical company joining up with NEC nanotech company:
http://removingtheshackles.blogspot.com/search?q=NEC
https://www.newscientist.com/article/dn28370-carbon-nanotubes-found-in-childrens-lungs-for-the-first-time/
let me draw you a partial picture- the inventor of Carbon nanotubes, is the chief scientist and researcher with NEC , out of Japan. last year I caught a biotech company have a 900% jump in stocks- tracked them down to having just "invented" and new "vaccine" for ovarian cancer. their partner on the project? NEC. NEC is NOT a bio based company at all- has no history of eVER being involved in ANY medical research … now they'are involve- partnered with a biomed vaccine company…. and now we have nanotubes being found INSIDE our children? IS that a straight enough line for you?
https://www.news.com.au/world/coronavirus/australia/anglican-church-leader-says-he-will-boycott-covid19-vaccine/news-story/26d4f59604135ca0698ecde07c8b0783
https://www.news.com.au/world/coronavirus/australia/covid19-vaccine-archbishop-anthony-fisher-condemns-oxford-vaccine/news-story/7b94e83a5491b6a76964d9bddfcb495d